Manufacturer of Premium Windows, Doors & Conservatories in Norwich, Norfolk.
Save up to 50% compared to National Retailers!
You can pick your dream window from our collection of high-quality, energy-efficient windows. Being a manufacturer, all of our windows are made-to-measure and can be designed to suit your needs. All windows meet BFRC standards for energy efficiency and use the highest quality handles, hinges and locks for increased security.
Astraframe manufactures premium doors in our Norwich factory; We manufacture a range of doors to suit any home. Our doors are manufactured using high-security locks, handles, and hinges as standard.
Astraframe manufacture living spaces for any home, Conservatories, Orangeries and different roof options available.
Buying directly from Astraframe can save you up to 50% off the cost of uPVC double glazing and conservatories.
Astraframe was one of the first uPVC double glazing manufacturers in the UK and is a leading supplier of uPVC Windows, uPVC Doors, Composite doors, French Doors, Patio doors, Conservatories, and Lantern roofs across Norwich, Norfolk, Suffolk and East Anglia.
Whether you're a homeowner, professional window fitter, Builder or DIY enthusiast, you'll know that windows, doors and conservatories need to be stylish, solid and secure.
AstraFrame chooses durable Profile 22 uPVC window frames to manufacture windows, doors, and conservatories for sale across the region. For a closer look, visit our factory showroom in Norwich.
You can browse through our range of Composite doors, uPVC double glazed windows, uPVC double glazed doors and Conservatories.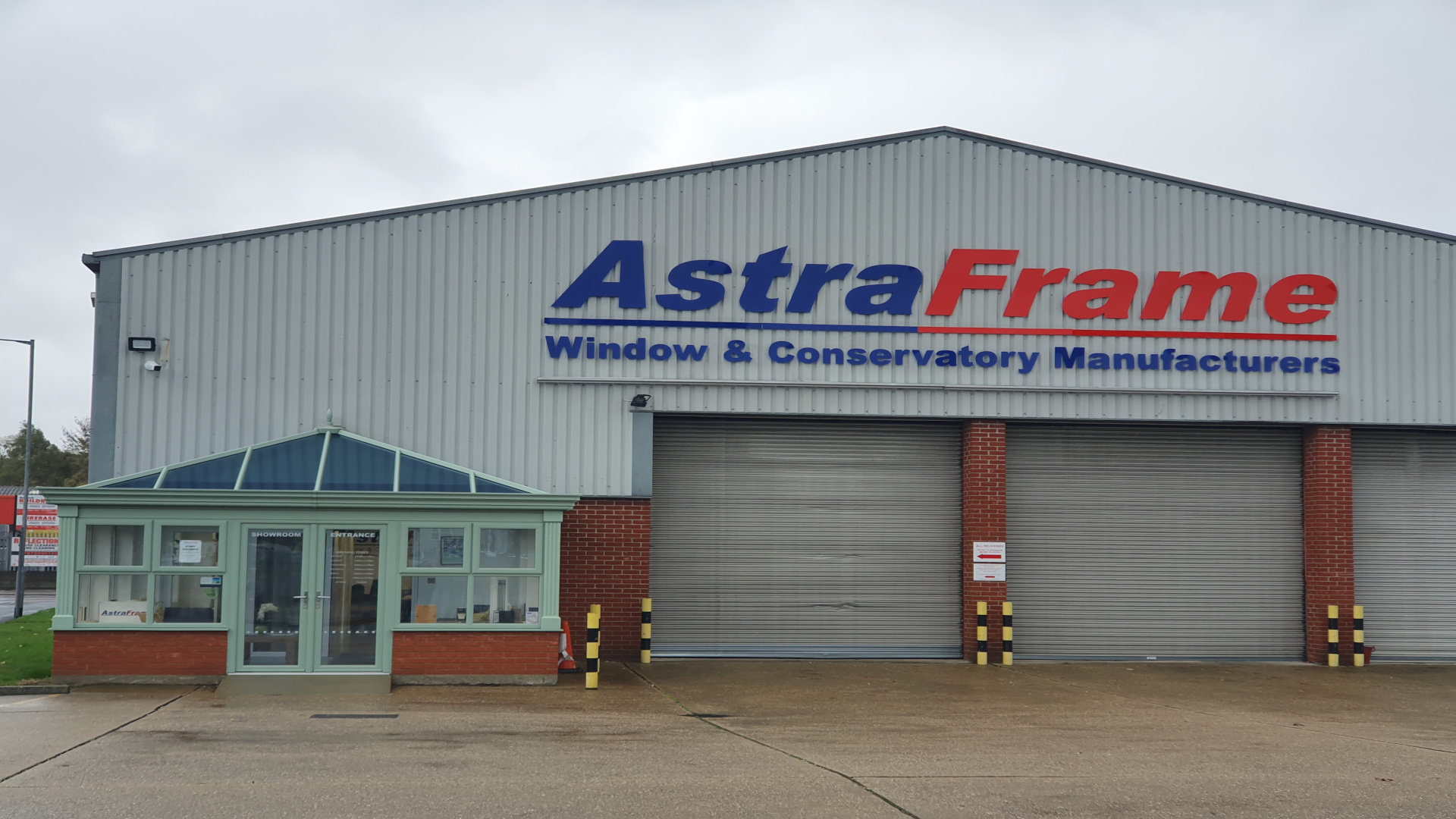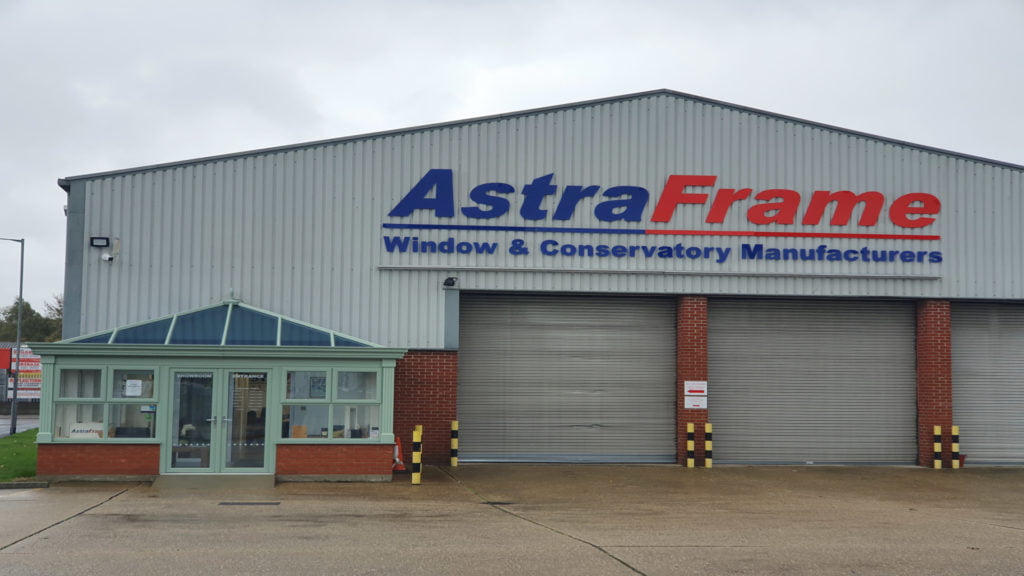 High-quality UPVC, Double Glazing, Conservatories and other products manufactured in Norwich since 1980
Astraframe don't require lengthy sales visits to provide a quote.
Instead by providing approximate sizes, colours and openers for the windows and doors you require, we can price everything up and send you a quote within 24-hours.
Simply email your requirements to [email protected], fill out the "Get a Quote" form, or use our composite door designer.
Complete the form below to request a quote from Astraframe
Use the Composite Door Designer below to submit a quote request for a composite door.
If you require a quote for a Composite Door, please use our door designer software to view all our style options.
You can view all Composite door style options via the designer. Your design can also be submitted directly to ourselves to quote within the designer.
FREQUENTLY ASKED QUESTIONS
Would highly recommend Astra Frame. We had been badly let down by the original suppliers of our aluminum bi fold doors and windows but Jamie and the team at... read more AstraFrame came to the rescue. Our order arrived before the original date we had been given and Jamie worked hard to try to get our order through as quickly as possible. Luke who fitted our windows and doors was also amazing. The product is fantastic and looks incredible. Thank you Astra Frame, you really got us out of what was a terrible situation at the time.

Emma Kingston


February 16, 2023

Very help full

Peter Lorenz


February 16, 2023

Friendly, helpful people. Lovely windows. Good prices. We have stuck with AstraFrame as we rennovated our cottage over the past five years because we always found it a pleasure to... read more do business with them.

Ian Wood


February 16, 2023

the quoting and order in process was very slick. my emails were replied to very quickly and the price was extremely competetive.

Michelle Hunt


February 9, 2023

Excellent service and reasonable prices. Chris is very knowledgeable.

Karen Dooley


September 9, 2022

Last year, only a couple of months after moving, I had AstraFrame and Luca making and fitting all of the 18 windows onto my new home, including opening and fitting... read more a set of garden doors in place of ordinary window. Excellent quality, service and very competitive prices. Thank you all!!

Anna Mangini


August 9, 2022

Received our quotes very quickly and checked to make sure we were happy. No high pressure sales technics just honest and very professional, didn't realised companies existed that provided this... read more type of service.

David Cunningham


August 9, 2022

Always a pleasure

Alison Salmon


June 9, 2022

Prices very competitive, very friendly staff. Helped us make what we hope are the right decisions with windows and doors

Harry Christmas


April 9, 2022

Having been to two different double glazing companies and had the awful sales spiel, ridiculous pricing and having been badly let down by one of them, I contacted Chris at... read more Astraframe and am so glad I did. He was very helpful and quick to respond, he also recommended a fitter and the windows were ready after 6 weeks, rather than the 3 months the other companies said i would have to wait. I can't recommend them highly enough

Richard Forman


April 9, 2022

Really nice door looks fantastic great price highly recommend this company John the fitter first class

Colin Oldman


March 9, 2022

Found Chris very knowledgeable, professional and helpful, in hard times it's easy with internet to shop around however if possible always nice to support local businesses, and customer service is... read more everything. Will certainly use and recommend.

Craig Irving


March 9, 2022

Great service, lovely window. I chose the dark grey frame which looks really good. Access my end was difficult but John the installer did a fantastic job. ... read more He had 46 years' experience and it really showed in the effective, clean and quick installation. Reasonable prices too.

Paula Grierson


March 9, 2022

Astraframe are a fantastic Norwich based manufacturer of windows and doors. Their online design tool works well but Chris (Manager) is always willing to tweak things at your request.... read more Extremely reasonable prices and outstanding quality. They don't install however have installers that they work directly with who are also great and make sure the job is completed to a very high standard. Avoid the cowboys and go with Astraframe. Extremely highly recommended.

James Leverage


March 9, 2022

Excellent service from this company, from planning and design through to fitting. would heartily recommend.

Mr C


March 9, 2022

From the first point of contact to the final fitting these guys have been amazing. The end result is brilliant and we could not recommend them enough. Thank you

Anna Jordan-Smith


March 9, 2022

Very pleased with he final result. From initial survey to completion. I had two large bedroom windows fitted by fitters who were recc. by Astraframe. Being a coastal property,... read more weather conditions were extreme, so sizes needed to be exact and materials of highest quality. I have used Astraframe many times before. Chris the manager has always been very helpful and accommodating . Time of order to completion was quite acceptable. I would definitely use for future work.

Visit Sheringham


March 9, 2022

Superb service, excellent quality highly recommended

Colin Sendall


March 9, 2022

Used AtraFrame Ltd a few times now. Always professional, very helpful, good communication, great products made to a high standard.

Chris McGee


March 9, 2022

Really chuffed with the all round service, everyone has been so helpful and the window and stable door were perfect and easy to fit. Delivered ahead of schedule and for... read more a very reasonable price. Top banana !!! Highly recommend Astraframe Chris and Sean could not be more helpful.

Ben Handford


March 9, 2021

We've just completed a six storey building in Great Yarmouth and Astraframe supplied all the windows. Brilliant service Brilliant product Will defintely use them again.

Richard Wombwell


March 9, 2021

Great team, great service and great products, no need to go elsewhwere.

Mark Nicholls


March 9, 2021

Delighted with the products & the customer service from Astraframe & would highly recommend them. Luke, the recommended installer has done a superb job replacing all the windows. His standard... read more of workmanship & attention to detail is second to none & we are delighted. At the end of the job Luke left the house clean, tidy & immaculate both inside & out & we cannot praise him highly enough. Thank you.

Stewart haines


March 9, 2021

Ordered a new front door from Astra Frames very pleased with the quality and price. Luke the recommended fitter did a great job installing the door. Thank you

Steven Pickett


March 9, 2021

Great windows friendly staff

Neil Bridle


March 9, 2021

We've just had new french doors installed - great quality supplied from Astraframes and installed by Luke from LPD Window and Doors. Luke did a smashing job, we are really... read more pleased with the end result. Very tidy and expertly done. We highly recommend him.

Tracey Plaistow


March 9, 2021

I've been doing business with Astraframe for several years, I can recommend them highly.

Gareth Pendleton


March 9, 2020

Overall a great company, quality products and service - wonderful to work with!

Rachel Harris


March 9, 2020

Very highly recommended! We had quite a lot of windows to replace and got a very reasonable price from Astra Frame. We used one of their recommended installers (Luke from... read more LPD) and the whole process from ordering to installation was easy and stress free. The staff at Astra Frame are extremely helpful and knowledgeable about their products, and also very patient with a customer who initially couldn't make her mind up! The windows and doors we had fitted are amazing - the difference they have made to keeping the house warm and keeping sound out is unbelievable! In short if you want a fantastic quality product at a reasonable price with excellent customer service from a local firm then look no further 🙂 They are so good we are now ordering a replacement door as well!

Maxine Bedwell


March 9, 2020

great service and a really high quality window

Connor Williams


March 9, 2020

Good place to get quality windows and doors

Jonathan Squires


March 9, 2020

First class from order to install! Looking to replace another door now

Dylan McCarthy


March 9, 2019
Please see the locations below of the main areas we serve.
If your location is not listed below. Please still contact us to see if we can help.